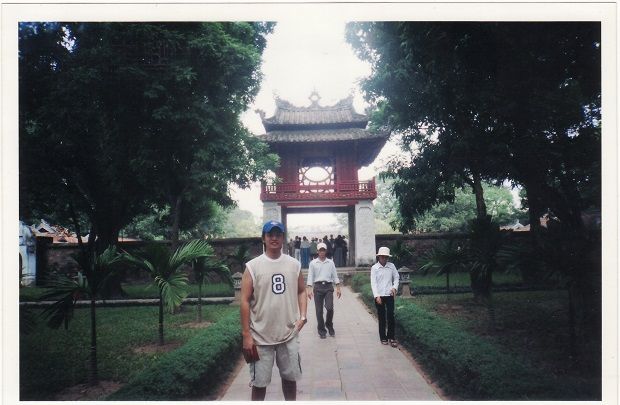 In October 2003, I was assigned by my company to support our client in Vietnam for a whole month.  This was my first international travel and I was alone.  I was sent specifically to Hanoi.  At first I was clueless of what the Vietnamese people are or how does Vietnam looks like.  Well, I was up for a whole month to experience it.
Hanoi is the seat of government of the Socialist Republic of Vietnam.  It is found at the northern part of the country.  It is bounded by the Red River at the north. Hanoi is about 1,092 miles from Manila.  From Manila, it can be reached using Cathay Pacific connecting through Hong Kong or using Philippine Airlines connecting through Ho Chi Minh City (formerly Saigon).  I took the Manila – Hong Kong – Hanoi route using Cathay Pacific and Vietnam Airlines to get there.
While our plane was landing, the first thing that I saw was vast rice paddies.  It reminded me of the rice fields of Central Luzon.  When I alighted the plane, the first one noticeable was that there were soldiers stationed throughout the airport.  Since it was new to me, I was cautious since I know that it used to be a communist region.
I was booked at Capital Garden Hotel, a 3-star hotel, at Lang Ha Street in Dong Da District.  It was a good hotel with a good crew of hotel guys.  I stayed in a deluxe room which was cozy.  Also, my booking includes breakfast wherein they offered western breakfast that change every other day.
Anyway, the first noticeable thing when I arrived in Hanoi is that the city streets and highways are filled with two-wheeled transport from bicycles to motorbikes.  Only a few cars can be seen on the streets. I was told by a friend that each household has at least three bikes.  On the highway, there are bike lanes but some still drive through the highway itself.  I remember that there were instance when I and some Filipino friends who stay in the same hotel would walk to our office.  When we reach the street crossing, we had to walk very slowly to get to the other side while hundreds of motorbikes as passing through.  One piece of advice is that you just walk forward and let the motorbikes evade you, or else they'd hit you.
Another is that there is a distinct smell anywhere you go to.  I was told that they were scents of bamboo shoots.  There are parts of Hanoi where the smell is very strong.
With the Vietnamese people, they are very friendly and nice.  And they've got so many beautiful ladies. I'd rate it that 9 out of 10 are beautiful.  All of them has, my guess, an average of 25 inches on the waistline, both men and women.  And anyone having a bigger waistline would be fat.  I think that in my one month stay there, I've only saw less than 5 "fat" Vietnamese.  I think this may be attributed to their diet.  Most of them eat a lot of vegetables.  Also, it's common to see women in their national costumes called Ao Dai (pronounced as Ao Zai).  While for men, they wore tight clothes that they look like men in the 70's with bell bottoms.
During my whole stay, I have only tried a few Vietnamese food because we mostly ate continental food.  But anyway, I was able to try Bun Cha ('boon chah') which is grilled pork on top of herbs served in a sizzling plate plus dry noodle soup.  It tasted good and I've liked it.  I was told by my friend that it's more tasty if it was served more in a traditional way.  I was also able to try nem cha (i'm not sure if it's the right spelling) which is pork rolled like a spring roll using a banana leaf.  I didn't like that one. Another was during a drinking spree I was given a small chick which is fried.  I was told that they are birds from the forest.  It was good but back them I'm cautious eating fowl because in 2003 Vietnam was included to those affected by bird flu.
Vietnam's currency is called Dong. Back in 2003, the conversion rate was US$1 = VND14,000 (currently at 16,060).  nd since I expected to stay there for 4 weeks, I decided to initially exchange US$75. I was surprised when I received my Dong.  I became a millionaire instantly with VND1,050,000.  There monetary bill starts from 100,000 to 500. Usually the cheapest item can be bought at VND5,000.
The best place to get big bargains in Hanoi is in Hang Gai (Silk Street) which is composed of a number street blocks that sells a number of items.  One can buy silk, embroideries, souvenir items and wood items.  These shopping block is near Hoan Kiem Lake which is the heart of the city.  Here, most shops accept Dong as well as US Dollars.  Vendors would usually give prices in US Dollars, but we usually ask their price in Dong.  This is a wiser thing to do because their items are usually cheaper in Dong than in USD compared.
There are a number of places for a tourist or a backpacker to see within Hanoi.  My favorite place would be Hoan Kiem Lake which meant 'Lake of the Restored Sword'.  In the middle of the lake is the Tortoise Tower (Thap Rua) houses a big preserved turtle which is somehow connected to a legend of the lake.
Other places of interest within the city is the Old French Quarters near Hoan Kiem.  This district is lined up with French colonial architectures like the Grand Opera House.  I'd recommend seeing The Press Club, which is a fine dining restaurant with an open veranda where it becomes a dance club at night.  There is also The Temple of Literature (Văn Miếu) and the One Pillar Pagoda. Also, a place to visit is Ba Dinh Square where you will find the burial site of Ho Chi Minh, their national hero.  One can also visit the historic Hanoi Prison just beside the Hanoi Hotel.
Aside from seeing all these places during my month long stay, I also had the chance to go to one of UNESCO world heritage sites, Ha Long Bay.  It is a tranquil bay with scattered karst islets.  We went there for a cruise.  I have detailed out my trip to Ha Long in my blog Cruising by Ha Long Bay.